Mysteries!
This section has been added to solve any mystery such as our first one!
If you have any mysteries or have any answers please make contact.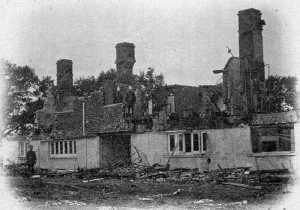 This picture from Mike Parcell's archive is annotated as follows:
"House struck and destroyed by lightning at Hartfield June 1908"
and adds "In ruins in a few hours".
It looks as if there are two fireman standing 'upstairs' and a policeman standing on the left. It is assumed that the house was demolished but somebody may know otherwise or maybe where it was. It also looks as if it had dormer windows but with the roof coming down to the first floor level it could be a Mansard roof. The picture is not good quality but you can enlarge it a little more by clicking on the image.
Mystery Partially Solved!!
If anyone knows of the location in Parrock Lane do get in touch.
An article in one of the local papers has been found by Mike Parcell so really he has answered his own 'mystery'! This is what it says: It is dated 1st July 1904
THE STORM.- The effects of the thunder-storm on Sunday were felt at Hartfield, as a cottage in Parrock Lane, occupied by a man named Butcher, in the employ of Mr Herbert Swift. of Upper Parrock Farm, was struck by lightning.
It appears that about 2:30 Butcher and his grandson were in the living room of the cottage, Butcher lying on a couch placed against the wall and his grandson seated near the door, looking at some picture cards, when the electric current entered the room by the door, passed along the chimney, carrying with it some live coals from the fireplace, setting the chimney on fire, forcing bricks from the top of the chimney and scattering them over the garden at the back and into the lane at the front.
Butcher and his grandson had a very narrow escape, as the lightning struck some of the cards from the hands of the lad in its passage through the room, and had the man and boy been exactly between the door and the chimney disastrous consequences might have resulted.
It seems that part of the electricity passed down the chimney into an adjoining room, as Mrs Butcher discovered the eldest girl lying on the floor, knocked down, she supposed, by the lightning.