Parcell's Postings!
& Questions & Answers.
Apology – early 2018!
A short note to say that I have got somewhat behind in answering the various enquiries that have come in to the website. The outstanding ones are now all approved and can be seen at the end of the relevant sections so if anyone is interested in The Railway for instance you will find some questions at the end of that section. If I get a chance I will try to move them onto this page to ensure that Mike can see them.
To those of you with questions you might like to join the conversation on the Hartfield History Group Facebook Page. It has become quite a lively forum with many pictures and stories with more than 100 people now involved. Just go to Facebook and put Hartfield History Group in the top bar and you can easily become involved!
Latest note on the Facebook page! This has now reached 200 subscribers so do join in! Oct 2018
This section is devoted to our local historian Mike Parcell who has spent many years gathering information and answering a myriad of questions. Here he has an opportunity to say what he likes on any subject within the obvious confines of local history!
Mike has been reading the website and enquiries that come in steadily from all over the place but has so far decided that he does not want to deal directly via electronic communication. I have thus taken on the task of translating his hand written answers into replies that everyone can learn from.
Mike has told me that he has too much work in hand to answer questions that he considers would be too complex and take too long to research. He will still provide occasional items of interest and pearls of wisdom where he can. Here is an example and wind on down to read a topical note (mid 2016) about Muhammed Ali/Cassius Clay's connection with Hartfield:
Enquiry 21st May 2016.
Hi my name is Christopher Brown and I remember being in a show as a young boy in church grounds the whole village was involved but can't find anything about it can any one help ? Am now 49 must have been 40 odd years ago .
Reply from Mike
I feel sure that the 'show' you are talking about is "The Story of Nicholas Smith" presented by the Guides and Brownies in 1976 and this is the programme in which there is a Tracy Brown – any relation?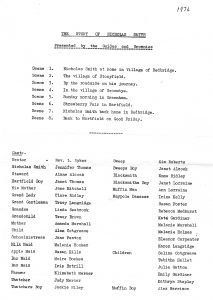 CLICK TO ENLARGE – ONCE OR TWICE.
In addition Mike sent a copy of the Souvenir Programme of the First Village Festival dated June 8 – June 13 1976 as you see below which includes under the heading "Nicholas Smith", "The story of Nicholas Smith, who founded the "Smith Charity" in Hartfield, told by the Guides and Brownies. Wednesday June 8th 7:00 pm."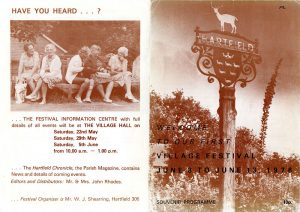 Click to enlarge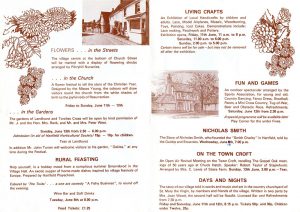 "The event "Day & Night" in the Churchyard may have required a performance from Christopher Brown. We have copies of the Hartfield Chronicle for May, July and September of 1976. They are kept in the Council Office and can be inspected by arrangement with the Clerk.
Mike finishes up with the comment "If Mr Brown has any personal recollections I would very much like to have them".
Anyone else remember this occasion and Christopher Brown?
Response from Christopher Brown 1st June 2016
Many thanks for the reply , I was born in Hartfield 1966 but am not sure if this story was the one, as I recall dressing in a red soldier uniform and wearing a Beefeater hat as if I was a guard at Buckingham Palace
And I remember walks at night through the village to the hill field which is now Mottfield with touches of fire .
Further note from Christopher Brown 5th June 2016
Hello it's Christopher Brown again. Now I have seen the village program you posted, the night and day thing makes sense to me as I remember it being flood lit and the music. It would be great if somehow there must be some photos of this event out there somewhere . Thanks again for your help , one story sorted wonder if any one remembered the touch walks to the hill field .Any other answers?
Anybody help Christopher brown – remember this and what about photos?
Question from Roger Barton 2nd June 2016
I 'll just say who I am. my father John Barton-Postman, grandfather William Barton –Anchor Hotel. Second cousin Ella Huntley
What I am looking for is any details of Lower Pest House Farm at Chuck Hatch. My ancestors, Bakers left there in 1855 and went to America with another family of Edwards, I assume paid for by the Parish.I am in touch with one of their descendants in Missouri and actually did a live video tour of Hartfield with her last Sunday on Face time
I have the 1841 census details but if anyone knows any more I would be very interested
thanks
Roger Barton.
PS I now live in London SE19
Anybody remember the Bartons and know anything about Lower Pest House?
Further Note from Roger Barton.
I was actually born in Colemans Hatch but lived in Upper Hartfield and then Hartfield.
I have quite a large collection of postcards which I could share, Would love to see your facebook page. I am on Facebook as Roger Barton
Thanks
Roger Barton
Note from Mike
Little Pest House is now called 'Larkspur'. Unfortunately there is nothing in any of my indexes under these names – so nothing researched. This house probably dates from the 1500's and I have no doubt that in the Archives there is a mass of information about it and the various families that lived there. There will also be a lot of information on the internet.
The Baker family were all over the place – they ran the Hatch Inn and had Peculiers Farm apart from anything else. All that involves weeks of searching and head scratching.
A Posting from Mike following the death of Muhammed Ali in June 2016
Muhammed Ali, (formerly Cassius Clay) died in June 2016. Said by some to have been the greatest athlete and sportsman of the 20th Century.
It may come as a surprise to learn that one of his relations is buried at Holy Trinity, Colemans Hatch. The relative is Brian de Courcy, known as The O'Grady (1943 – 98) whose family in Ireland can be traced back to the fifth century. The head of the clan became known as The O'Grady
In the late 1860s one of them who emigrated to the USA, Abe O'Grady started a family one of whom married a black slave girl who gave birth to Odessa Lee Grady who married Cassius Clay senior and became the mother of Cassius Clay junior.
The O'Grady family motto 'Vulneratus non Victus' (wounded not conquered) is inscribed on Brian's headstone. Muhammad Ali would certainly approve of that!
Enquiry from June Bridgeman re the Hale & Snelgrove families connected with Ashdown Forest.
I am Secretary of both the Friends of Woodbury Park Cemetery and the Friends of Tunbridge Wells Cemetery. I also coordinate their history work and memorial conservation as well as that of the Friends of Trinity Churchyard. These are the three Victorian graveyards of Royal Tunbridge Wells. All three Friends groups have websites you can google
I am writing up a memoir about six members of the Hale family, mostly born in Canada whose father was tax collector and paymaster in Lower Canada in the early nineteenth century, and lived in some style with his wife Elizabeth , sister of the second Baron Amherst. These Hale offspring are buried in Woodbury Park Cemetery, including Bernard Hale and his wife Charlotte Cecilia of Holly Hill, Hartfield (who had life tenure in that property from her first husband) and George Carleton (not Charlton as on your website) Hale , who are I believe commemorated in your church. A descendant of the latter is one of our FWPC members
and will be attending the event we are planning next summer jointly with the Jeffery Hale Foundation of Quebec. This is to mark the refurbishment we have undertaken of the three family graves among other projects using a benefaction we have recently received from the JHF and other Quebecois institutions to honour the Quebec philanthropist Jeffery Hale, eldest brother of the siblings buried here .
Bernard Hale's local claim to fame is of course his successful resistance of the enclosure of Ashdown Forest by a rapacious and
disputatious Lord Waldegrave, extensively documented in Brian Short's book for the Sussex Record Society " The Ashdown Forest dispute 1876-1882″. I have done a lot of research on the Hale family including visiting Quebec in October to look at buildings and archives, but would like to amplify their local connections and deeds.
I plan to visit your church to look at the Hale memorials, and wondered if the church or local History Society held any other interesting information about these people that ought to be included in the memoir.
I am also researching another person with Ashdown Forest connections, this time buried at Tunbridge Wells Cemetery. John Sydney Snelgrove has a wonderful mosaic memorial ledger stone we are in process of restoring and conserving. After his first wife died in 1919 in TW, he remarried and moved to The Plottage Forest Row. He was a comfortably wealthy man being the heir of a Snelgrove father and Marshall mother, and thus a scion of what was still a famous and very exclusive London department store in my young days (I am no chicken) before it was lost within the ramifications of Debenhams. Maybe I should also approach the
Ashdown Forest Research Group about that as one of John Snelgrove sons was killed in France on his second day there as a young officer, and is commemorated at Forest Row. I have some details of that and am copying this email to them in case they are interested and hold information on the Hales and Snelgroves.
Response from Mike 10th July 2016
I have always thought that Bernard Hale did very well by marrying widow C.C.Jackson as she had, not long previously, inherited a vast amount of farms, land etc from her late husband. I wondered what the circumstances of the marriage were – was it a kind of business arrangement, or what?
I can't add anything about Hale that is not comprehensively covered in the 'Dispute' book. However, the Tithe Map and schedule gives full details of all the lands he came to own. I haven't looked at the maps but it could be feasible (possibly) to photocopy them if your correspondent is interested.
The name Snelgrove does not appear in the Archive. There is no Forest Row Historical Society; I have the feeling that their huge amount of material went to the Parish Council but that would be a long shot.
I would, of course, like to have any feed-back.
Enquiry about 'Hartfield House' from Shirley Moth extracted from Comments on Historic Buildings.
Hello, I wonder if anyone knows anything about Hartfield House; Hartfield?
On the 1939 Register my 2nd cousin was living there – his wife wasn't! His occupation was listed as Shipping Department Manager. Seems to be mainly other chaps living there with occupations such as Buyer; Electrical Buyer; Junior Clerk General, etc – so was it lodgings for a large company or store?
Do hope someone knows!
Many thanks.
Shirley
Apart from my short response on the Historic Buildings page Mike has replied as follows:
'It would be helpful if Shirley had said what the 1939 register was & who was the owner of the property.
When war broke out there was nationwide panic – theatres & cinemas closed – and there were many evacuations from cities.
The owner of Hartwell had a London based business which he transported to Hartfield, including all his staff. This generated a vast amount of out going mail which someone delivered to Hartfield Post Office daily which poor Miss Medhurst had to frank with her rubber stamp. Eventually it was agreed that the person delivering it would do it for her!
My guess is that the owner of Hartfield House had a business in London or Croydon & that he too had moved his staff out of harms way. But I do not know for sure.'
Any more thoughts from anyone? CS      See further enquiry from Nic Smith 3rd March 2017.
Enquiry from K.Skinner 26th September 2016. Any Wheatleys in the area.
Researching my family history I have found that my Great Grandfather Joseph Samuel Sellwood married a Caroline Wheatley at Hartfield in December 1884. His father was Henry Sellwood, Labourer. Her father was John Wheatley,Farmer. Marriage certificate No.426. Would you know if any of the Wheatley family are still in the area?
My E mail is: Kenjskinner @yahoo.co.uk. Any help would be much appreciated,Thank you.
K.Skinner.
Mike's response 6th October 2016
Ken Skinner asks if there are any Wheatleys in our area. There are but a handful of them who have chosen to be in the Tunbridge Wells area telephone book, none of whom is in Hartfield.
Enquiry from Karl Miles of Swansea about his ancestor William Miles. 1st October 2016
It has been suggested to me that the Hartfield History Society may be able to provide some insight to my ancestor.
Very Briefly – William Miles Born circa 1713 – 1784 lived and died within the Parish of Withyham
He married Elizabeth Card at Rotherfield in 1734. They are buried at St Michaels Church
He was a shopkeeper up until his death.
All their 8 children were born in Withyham.
Here is my problem – Cannot find any trace of his shop or where he carried on a business. He may have been a Tailor, but unsure of this fact. Is there any possibility that although all points to Withyham (By the way enquiries there have proved negative) he may have traded in Hartfield. His son William died 1829 in Hartfield.
Kindest Regards – Karl (Swansea)
Thoughts from Mike 6th October 2016.
Karl Miles asks about William Miles of Withyham. I keep records only of Hartfield Parish and, as he seems to have found out, there is no History Society in Withyham. I suggest he joins the Sussex Family History Group. There is a good chance that they could put him in touch with someone who has done this research.
It may be helpful to know that before the creation of Crowborough Parish, Withyham bordered in what was previously Rotherfield Parish – Crowborough took over a slice of Rotherfield which still exists. Withyham Parish extends surprisingly close to what is now Crowborough town so William need not necessarily have lived in Withyham village. Crowborough did not exist as a town or a parish in his time.
Enquiry from Marcus Peacock in Washington DC 14th October 2016, prior to a visit.
Hartfield history buffs,
First, thanks very much for your website. I am researching my father's family and hope to visit Hartfield with my family this coming March. Your work has been a great help. The clearly marked street map has been particularly helpful.
My primary interest is Richard Flawn Jr. (1833-1927) and his daughter Adelaide (my great grandmother). Richard followed his older brother William to Hartfield around 1854. (William started running Posington Farm at this time.) In 1856 Richard married Eleanor Hill, whose parents managed Great Cansiron Farm.
Richard was a threshing machine proprietor in Hartfield for over 20 years (working with one of his younger brothers, I think). He and Eleanor's family appear in three consecutive censuses (1861 – 1881). Since I plan to visit Hartfield, I am wondering if any of his family's dwellings may still be standing, but that entails having an idea of where they may have stood, hence my inquiry to your group.
In the 1861 census the enumerator simply has him in the "village," with a few other families, bracketed by Pope's Cottage on one side and "Old Chequers" (which appears to be a shop or grocery run by the Peckhams) on the other. Does anyone know where Old Chequers was/is?
The 1871 census has him as only one of two families between Stairs Farm and the Pump House — and he appears to be a bit further away from Old Chequers. This makes me think he moved a short distance (probably to accommodate a growing family). Given the very close proximity to both Stairs Farm and the Pump House in 1871, can a building be identified as his likely dwelling?
By 1881 he has moved west just past Coleman's Hatch. He, along with some other families, live in "Quabrook" which I assume may be what is now Quabrook Cottage or may simply refer to a dwelling near what I have seen labeled as "Quaybrook common."
In 1891 he has moved to Frant and become a sheriff's bailiff.
Any advice you may give me on these questions before my visit would be appreciated.
Thanks!
Marcus Peacock
Washington DC, USA
Quick Reply 14th October 2016
Hartfield is a tiny village by any comparison but particularly with Washington DC! You can walk from one end to the other in a few minutes! In addition it is a village in which the majority of the houses are several centuries old and are 'listed' as buildings of special architectural or historic interest as you can see in many of the photos on the site. This means that, apart from occasional name changes, most of the buildings remain entirely recognisable. Popes Cottage is in Church Street as shown on the map. Stairs Farm has been redeveloped although the Farmhouse still exists and many of the original farm buildings have been converted into dwellings with names like The Old Dairy. Pump House is on the opposite side of the High Street from Stairs Farm, next to the village Shop. I am sure Mike Parcell will be able to add more detail in due course.
Some data from Mike 28th October 2016 replying to Marcus Peacock
You have Richard Flawn (1823 – 1927) who married Eleanor in 1856 and had one daughter, Adelaide. In the 1881 Census he is at Quabrook as the proprietor of farm machinery. My searches find Richard Flawn born 1834 in Northamptonshire with several relatives in this locality all born in Northamptonshire. He had 6 children born in Hartfield Parish. In c 1854 he married Helena but I do not know where.
In 1881 he was aged 47 – the dates add up – 1834 + 47 = 1881
There is another Richard Flawn born 1845 who c 1865 married Eleanor and had one child, Adelaide, born in Rotherfield in 1866. You seem to have got them mixed.
I do not have access to ancestry.uk and this information is from theweald.org surname list. Once you have cracked how this website works you will see that it has a vast amount of information.
I have no means of knowing which one lived in the various places you mention.
Reply from Marcus Peacock 31st October 2016
Mike, thanks so much for taking the time on this. To the extent anyone else may be interested in the Richard Flawn (~1833-1927) that moved from Northhamptonshire to Hartfield about 1854, here are the census entries for 1861 and 1871 showing him working as a "Steam Threshing Machine Proprietor" in Hartfield. The 1861 census shows him, his wife and his first child living in the village between "Popes Cottage" (not shown on clip below) and "Old Chequers" (whatever that may be now). The 1871 census shows him and his family very near the "Pump House." The East Grinstead register records that he married Eleanor "Ellen" Hill in August 1859.
(Marcus attached a piece of both the 1861 and 1871 Census to his email but it is not clear enough to add here. It simply confirms the details above.)
Message for Mr Peacock from Mike Parcell 14 Nov 2016 – written 11 Nov.
(In a p.s. to his note to me that came with the letter below, he adds "Mr P does not acknowledge that I found 2 Richard Flawns nor explained their relationship. Well, I have news for him – I have found a third one!")
Referring to your original enquiry of 14 October your Posington Farm should be Posingford Farm.
In 1851 this was occupied by William CARD, a farmer born 1897. This census includes Posingford in two separate enumerator's districts which is very strange. There are only three houses here – one occupied by Thomas CARD born 1809 and a humble broom maker – Possibly brother's
The same census shows yet another Richard FLAWN:
FLAWN Richard age 53, Farmer at White House Farm 22.5 acres. Born Irthlingborough, Northamptonshire.
Elizabeth age 59, wife, place of birth not given.
Caleb age 27, son, unmarried, born Hargrave, Suffolk
Rebecca age 26, daughter, born Irthlingborough.
There is only one FLAWN buried in Hartfield, that of Elizabeth on 2 December 1858 aged 67, who must be the White House Farm person.
Posingford Farm, White House and Great Cansiron are still there but no longer working farms. The name Old Chequers has been lost but I believe Miss Peckham's grocer's shop was at number 7 High Street. Popes Cottage is in Church Street which doesn't help to locate Richard.
There are several reasons why the enumerators did not record properties in strict geographical sequence. Little did they know what difficulty this causes the local historian! The difference between the 1861 and 1871 Census Returns does not necessarily mean that the FLAWNS moved but due simply to the enumerators' inclination when doing their rounds.
Quaybrook Common was and still is an amorphous area of open countryside with a few houses dotted about any one of them possibly occupied by Richard.
I cannot be sure but I guess that the FLAWNS lived in the High Street next to Miss Peckham at Vine Cottage. My reasoning is that I know who lived at several houses in the High Street and the ones I am uncertain about are very tiny while Vine Cottage is quite large and perhaps the most likely house for a person of Richard's status in that he would probably be able to afford the higher rent.
It would be most interesting to know about Richard's background and why a whole bunch of FLAWNS moved from Northamptonshire to Sussex.
Enquiry from Catherine Reay of Duddleswell 28th December 2016
I have been looking for the graves of my great grandmother and great uncle in the churchyard at Coleman's Hatch. They were buried in the 1930s.
I am emailing to enquire if you know of anyone who has catalogued the graves, or otherwise would know the history of the churchyard. My mother, who is alive, remembers the graves being by a path, but possibly they were where the hall now stands.
My reply and the follow up from  Mike Parcell 3rd January 2017
I obtained a list of burials from James Castle who had needed this whilst doing his research into the names on the War Memorial which is recorded elsewhere on this website. It was not the easiest of lists but the bottom line was that I could not find either of the names that Catherine had sent me following her letter above. These were Jane Anne Johnson and Claude Horner Johnson. She also told us that they had both lived at Broadstone Farm.
I then passed the enquiry onto Mike Parcell and this was his reply:
"When we started to transcribe the graves at Holy Trinity it quickly became apparent that there were errors in the printed list of names and the plan provided by the Churchwardens.
In fact there are literally scores and scores of errors of every kind so we prepared a correct version compiled by visual inspection and gave a copy to the church. Whether the official version was put in proper order I do not know.
I referred to the corrected version but could find no Johnson. A dig into all the gravestones at St Mary's had the same result and, for what it was worth, I looked at the electoral list for Hartfield in 1927. No Johnson there either.
Broadstone Farm and Tompsetts Bank are in Forest Row Parish. Has there been a lapse in someone's memory and they should be seeking there?"
Over to you! Chris.
Response from Catherine Reay 14th January 2017
Many, many thanks to you and Mike.
I read your email to my mother, and she said it is possible that the graves were in another churchyard, because her mother did not actually attend the funerals. She was quite small when she was taken to see the graves herself. But she said that her family, although maybe not regular churchgoers, would go to Coleman's Hatch church. The parson Mr Mizen (have I got that right?) was a family friend.
I will have a look in the churchyard at Forest Row, if I can find it. I know where the cemetery is, and that might also be a possibility, although it does not tally with my mother's memory.
With best regards
Catherine
Enquiry from Dennis C. McCarthy, 19th February 2017.
We am looking for any information about an ancestor of my family. Might there be any information you could give us about: John Watson BIRTH 1802 • Hartfield, Sussex, England DEATH Unknown 2nd great-grandfather
My initial reply 25th February 2017
Hello Dennis, I have posted your enquiry on 'Parcell's Postings' and will let you know if anything comes of it. Have you searched all the available records? A visit to 'The Keep' near Brighton would be an obvious place to go. They have a whole section especially for family research and very helpful staff. Their website is http://www.thekeep.info
Mike Parcell replied on the 21st April 2017
I have nothing on John Watson – certainly not buried at St Mary's. (CS. I checked the weald.org and there are 697 Watsons on record but none born in Hartfield around 1800.)
Enquiry from Nic Smith 3rd March 2017
From reading an earlier comment, South Hartfield House is actually called St.Mary's or Church House?
At what time did this transition occur officially? I have been trying to track down census and electoral records of a relative who may have worked there in 1922 with no success. Perhaps I've been searching the wrong name of the abode.
Many thanks for any assistance in this matter.
My initial reply 9th March 2017
Hello Nic. I have added your enquiry to Parcell's Postings but I have also received some information from Rose who has lived in the house she knows as St Mary's for many years. Although not answering your particular query she has found some information about the house from a Community that used it as their first 'guest house' for the Community outside its own premises. From this information I understand that from 1917 the house was rented as a House of Prayer and Quiet with Sister Stella in charge. The work prospered and 10 years later it was moved to larger premises at Mayfield. So we have a small piece of the history of the house and it would appear that the House was a Retreat House until 1927.
Finally, I am sure that it was never called South Hartfield House because that is the name of an entirely different house which is close to the Hatch Inn in Colemans Hatch.
Mike Parcell has already commented on the wartime use of the house so perhaps we will build more of the story as time goes on.
Enquiry from Paul Atherfold 19th March 2017
I have just had the pleasure of visiting hartfield, and loved the place. My reason for visiting was to make a trip to st Mary's church, to see the family grave, no. 33, The Atherfold's. My family George Atherfold, was a millar in at Bolebroke mill circa 1780. The mill is still there and I managed to have a look around the outside. I wondered whether you had any other information about the Hartfield Atherfold's? I would be most interested in hearing about it. Thank you.
My Initial reply 31st March 2017
Thank you for your note. I have added it to Parcell's Postings to see if we can get more detail of the Atherfolds. I live close to Bolebroke Mill which as I am sure you know is actually made up of two mills, the early one which would have had a conventional wheel driven by the stream and a later mill built at the time the mill pond was constructed to supply water to an 'overshot' wheel providing much more power for grinding. Although the overshot wheel has been removed there is much of the original machinery still in place inside the building. David Cooper is the owner.
Further Information 21st April 2017
Using the Weald.org facility as explained in the New section I found 62 Atherfolds. George Atherfold is shown as 'tenant' of the Mill in 1795 and another George was a miller in 1841. There are ancestor and descendants lists. Click on the Hartfield name at the top and scroll down to places and properties and click on the mill where you will find historical records with lots of Atherfolds.
Enquiry from Richard Regan 22nd March 2017
Poohsticks Bridge.
I was looking for any old pictures of the bridge and thought to ask the History Society.
I have trawled the internet with limited success. Particularly interested in a 1907 image, or thereabouts
My reply 31st March 2017
As I am sure you know the bridge was built in 1907 and re-built in 1979 so clearly pre-dates Winnie-the-Pooh and 'Pooh Sticks'. There are a few earlier pictures of the bridge on-line but all relate to the 'game'. There might be some information about the building of the bridge at The Keep outside Brighton that holds the East Sussex Archive. Just google The keep for detail. Maybe the rivers authority or similar may have records. Clearly you are looking for the very first illustration so maybe a newspaper report would be a possibility. I am afraid I don't have any early photos but I will add your query to Parcell's Postings and see if anything else appears.
If you do come across anything relevant we would of course be delighted to add it to our records!
Further comment from Mike Parcell 21st April 2017
I have no early photos of the bridge. It may be of interest that the present bridge is the fourth one since that depicted by E.H.Shepard. They have always been built as replicas of the original.
Enquiry from Raymond Edwards 15th April 2017
Does anyone know if there was a Platelayers/Permanant Way Gang Hut anywhere along the railway of Hartfield and Withyham?
I descend from Silvester Latter Edwards ( my Great Grandfather). He lived with his Mother and Father, William and Louisa Edwards working as a Farm Labourer at Reids(Reeds) Farm, Hartfield Parish (I cannot locate this farm or where it was?). He married Sarah Ann Weeding in 1884 and set up home at 93 Green Cottage, Hartfield ( anyone know this location?). He quit working on the farm and become a Platelayer for the railway. Unfortunately I have no knowledge as to where he was based. I am a fourth generation Railwayman thanks to Silvester, his son( my Grandad)and my Dad.
I shall be keeping an eye on this wonderful website as I am interested in the local history as it is from where I descended. There were a lot of Edwards in the Hartfield and Withyham area, and tracing my roots has been fun and confusing at times.
My Quick Reply 15th April 2017
Thank you for contacting us with your interesting enquiry. I have added it to Parcell's Postings and hope that we can provide some answers in due course. I thought that there was a hut very close to Hartfield station at the end of what was or became the coalyard but I could not say if it was actually a platelayers hut.
Further reply following the addition of details on the weald.org 22nd April 2017
Reids Farm is in Chuck Hatch according to the data and there are lots of Edwards in the 1881 census. Just follow the links down to places and properties and you will find Reids Farm and when you click on it you will find the historical census records with the Edwards.
Reply from Roger Barton 24th May 2017
Silvester Edwards b abt 1859.In 1891 he worked on the track as part of a gang of four as a labourer paid 3/- a day. Find my Past railway records
Green cottages I think were near Chessons corner on Withyham Road
(There is still one cottage with the name Green Cottage. The name of course was because these cottages were opposite Hartfield Green. I am told the name was also used on the nearest cottage to the Green at that end of the High Street. I am not quite sure about the numbers however C.S.)
Roger also added -Forgot to add Based at Hartfield and would have worked for the London Brighton and South coast Railway.
(Thank you Roger, very helpful.)
Enquiry from Anthea Remnant 21st April 2017
Ii would love to know more about Tom Chesson. I can't work out where he would link into my Chesson family tree. My great grandfather came from Cowden, so I feel sure there must be a connection. I would be very grateful for any information that may help.
My reply following the addition of 'How to make your own family searches on-line' 21st April 2017
Dear Anthea I have just added a new section under Parcell's Postings on how to use the weald.org search facility to do your own, at least initial, searches. Using the facility I was quickly able to find several Tom Chessons. In fact there are 106 Chessons on record, lots of whom come from Cowden. You just need to follow the right one – is it Charles Thomas or Thomas A Chesson for instance. Once having selected the right Tom you can get the whole family tree by clicking on the name. There are ancestor and descendant lists which should also help. I will put this answer on Parcell's Postings as it may help to point other enquirers in the right direction.
Enquiry from Janice Barber 5th February 2018
Does anyone have or recall any information on a private miniature railway which ran from Bassetts Manor to somewhere near Hartfield in the 1960's? I think the engine turntable was in one of the oast houses. I used to visit Bassetts Manor as a child when my Great Grandmother lived there and I have some pictures taken in the gardens.
Reply following information from Mike Parcell 11th March 2018
Mike Parcell has sent me some information about the Bassetts Manor railway with several photos and a long article that was sent to him back in 1992 by the then owner of Bolebroke Castle, Peter Hobcraft. The railway was built by a well known model railway company called Cromar White but the railway at Bassetts Manor was both the first and the longest that they had built being about 1.1/2 miles long and was started with a discussion in 1967. The connection with Bolebroke Castle was that there was a proposal to run a branch line down the side of a field to the top lake of Bolebroke Castle but was never constructed.
The Grand Opening was held on the 27th October 1968 with around 300 guests but, sadly, this was the one and only operating day for the completed railway as owner W.A.Bourner died of cancer later in the year and the whole estate and railway was sold in July 1969. A sad end to what could have been one of the outstanding model railways of the country.
I wonder if anyone knows about the similar railway that was constructed at Bolebroke Castle, presumably later, but was in evidence running beside the lane leading to Bolebroke and also beside the lake?
Janice, if you have any photos which include the railway or are just of general interest regarding Bassetts Manor I would be very happy to add them to a note in a new section about Bassetts rather than the Railway section although I will make reference to model railways in the main Railway section. I will include the model railway photos when I have scanned them.