Contacts & Local Information
Contact Details.
Click on the button to send an email to the History Group:
We would like to add your email address to our circulation list for information on our programme and reports on meetings.
This is a private list not to be shared commercially. Just ask if you wish to be removed.
Useful Contacts and Information Sources
Each year the Village Hall Committee have promoted a Hartfield Calendar with photos, illustrations, post cards and drawings from collections of both individuals and the History Group. Although this one has now been superceded it is left for the time being as a reminder of an important source of funds for the Village Hall that is owned entirely by the residents of Hartfield and something that you should look out for!
The 2017 calendar was based on the "Then & Now" Power Point presentation used by the History Group for the January 2016 Social.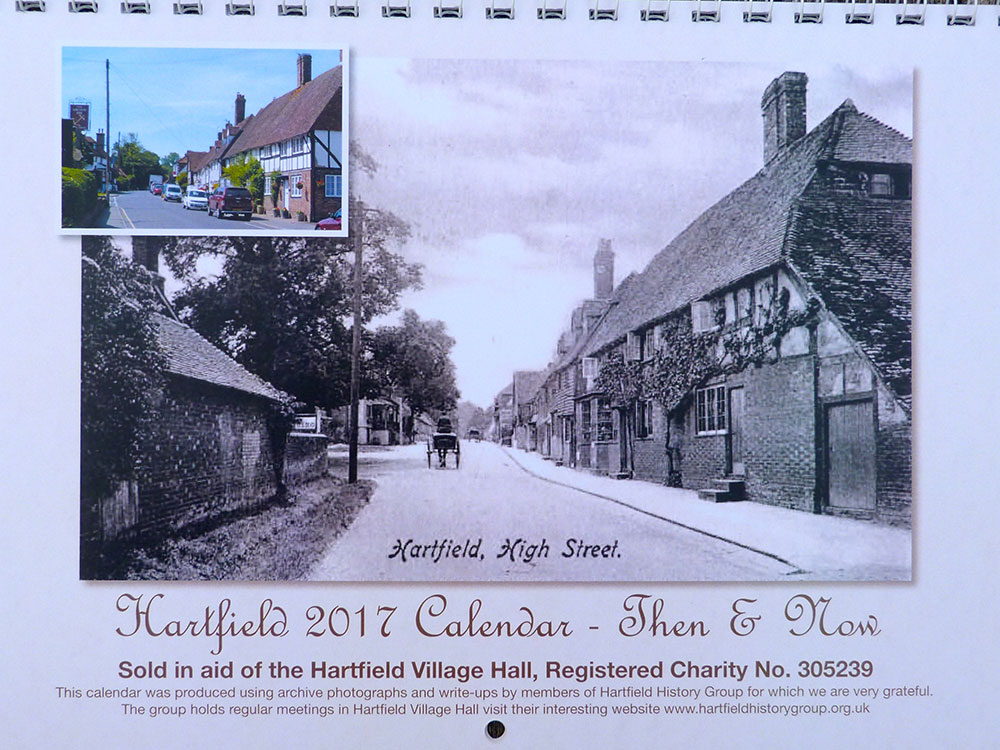 Don't forget that profits from the sale of this calendar at £10 each go towards the upkeep of YOUR Village Hall that is owned by the residents of Hartfield. Each picture has information that you may not know so get your copy from the Village Shop and learn more about your village every month!
Hartfield Village Hall Brochure Dec 2014[3]
St Mary the Virgin CE Primary School
Ashdown Forest Research Group.
Village Events of Interest
Unfortunately the writer of the column below is unable to continue but it is hoped that someone can be found to re-start it soon. In the meantime I am leaving the following in place to provide an idea of the activities that go towards an enthusiastic and busy village. Many of the societies and clubs have their own websites such as this one and the Parish Council website carries a list of these. If there is anyone local who is interested in taking on the Hartfield Community Column please make contact through the 'contact' button and I will put you in touch with the relevant people.
The  Hartfield Community Column is published regularly in the East Grinstead Courier.
The current (last) one is dated 21st June 2016
PLEASE DO NOT BE CONFUSED - ALL THE FOLLOWING HAPPENINGS ARE OVER. THEY ARE SIMPLY LEFT IN PLACE FOR A WHILE TO SEE IF WE CAN FIND SOMEONE WHO IS PREPARED TO TAKE ON THE HARTFIELD COMMUNITY COLUMN. IT IS NOT A HEAVY TASK - JUST ONE OF BEING IN TOUCH WITH THE VARIOUS GROUPS AND PUTTING TOGETHER A FEW LINES TO BE PRINTED IN THE EAST GRINSTEAD COURIER SUCH AS THESE!
HARTFIELD Parish Council are arranging a basic first aid and defibrillator training during the evenings of July 5th and August 24th. For more information or to book a place contact Clerk Emma Fulham parishclerk@hartfieldonline.com
WINNIE the Pooh fans are invited to his 90th birthday party and Treasure Hunt on Hartfield Croft, High Street on Saturday June 25th between 11am and 1pm. Bring a picnic and your favourite bear, a prize donated by the Pooh Shop will be presented to the best photo taken on the day. To join the Treasure Hunt at £3 or the Toddlers Scavenger Hunt at £1 contact Mimi Van Praagh to book a place or just turn up 07540 090242 mimivanpraah@gmail.com. Face painting, licensed bar, balloons etc, come and join the fun, proceeds to St Mary`s School PTFA.
AN interesting afternoon can be had at Perryhill Nurseries on Saturday June 25th at 2pm when beekeeper Steve of Bowler Wealden Honey demonstrates hive management and within a bee protection suit you can get a close look at these amazing insects without which we would find it hard to exist. Bee friendly plants will be available to buy to get your garden buzzing.
HITS from the 1940`s 50`s and `60s will come to life in Hartfield Village Hall with The Spinettes on Sunday July 17th from 6.30pm, show starts at 7pm. Tickets will be snapped up so contact 07515552491 or email thespinettes@hotmail.com £10 adults £5 children over 16 years. Look up this fabulous group with lead singer Matthew Goodgame www.thespinettes@hotmail.com
Schedules for both the Colemans Hatch Flower Show on July 30th and Hartfield Horticultural Society Show and Fete on September 3rd are available in The Village Stores Hartfield, Nick The Butcher, Perryhill Nursery and farm shop. Lots of classes to enter and a great day out for all the family with numerous stalls and entertainment.
AN extra date, Monday July 6th, has been added to the Hartfield History Groups visit to Hammerwood Park at £10 including refreshments. Visit hartfieldhistorygroup.org.uk/currentprogramme to book a place online or call 01892 770619