Village Guide
The Hartfield Village Historical Guide (On the Right) is the perfect place to learn about this historic village. The booklet takes you on a tour of the village from the old Railway Station to the Hartfield Oak at the opposite end via the Town Croft, the Parish Church of St Mary's with Lych Gate Cottage, the Village Pump and many houses that are 500 or 600 years old that have gone through significant changes over the centuries. Researched and written by Mike Parcell and Norman Black and beautifully illustrated by Tony Goddard. Available at every History Group meeting or from Linda Graham who can be contacted via the info email address under 'contacts'. Great value at £3.00.
Please note that due to time pressures the intended update to the Historical Guide has yet to be progressed. Copies of the current version have now run out. Is there anyone out there who would like to help?
'Hartfield Times'
In addition to the Historical Guide there are 8 issues of "Hartfield Times" with a huge collection of stories, reminiscences, descriptions and life as it was lived. The website will carry a selection of the articles in due course.
There is limited availability of several of these publications so please enquire via the contact page or at one of the history meetings.
                                                        CLICK ON PICTURE TO ENLARGE AND BACK ARROW TO REVERT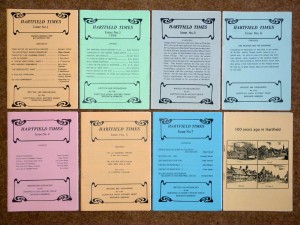 Voices of Old Hartfield
Finally, we also have a collection of audio recordings, the earliest made in the 1970's, with reminiscences going back to the earliest years of the 20th Century. We played some of these at the social evening at the beginning of 2014 and 2015. Our social evening having become a more substantial event at the Village Hall 'Voices of Old Hartfield' will be reviewed.