Wartime in Hartfield
These photos, collected by several people including Mike Parcell, Tommy Mitchell and Laura Medhurst are so redolent of another age with the preparations for war and the Victory Celebration tea party for VE Day are simply worthy of a larger audience. With the 75th Anniversary of VE Day in 2015 can you add any names to the few written on the back of the photos which will be added below. A better copy of the tea party photo has been uploaded – June 2016 – which can be further enlarged by clicking twice.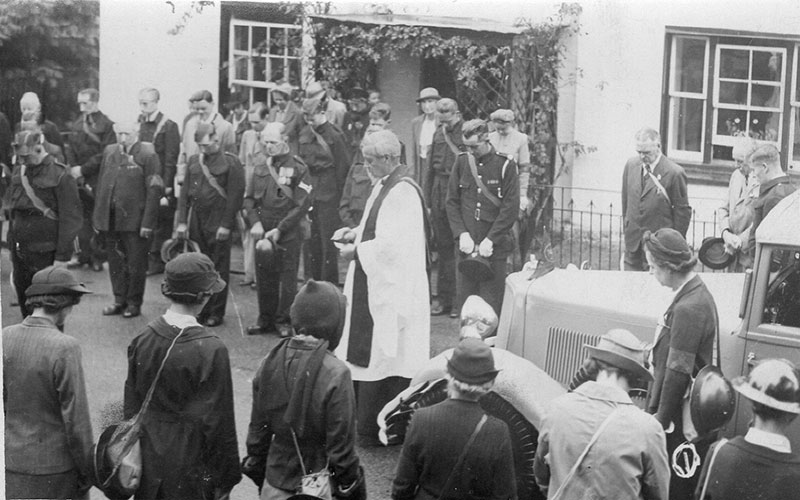 Two new pictures of the same event showing the scouts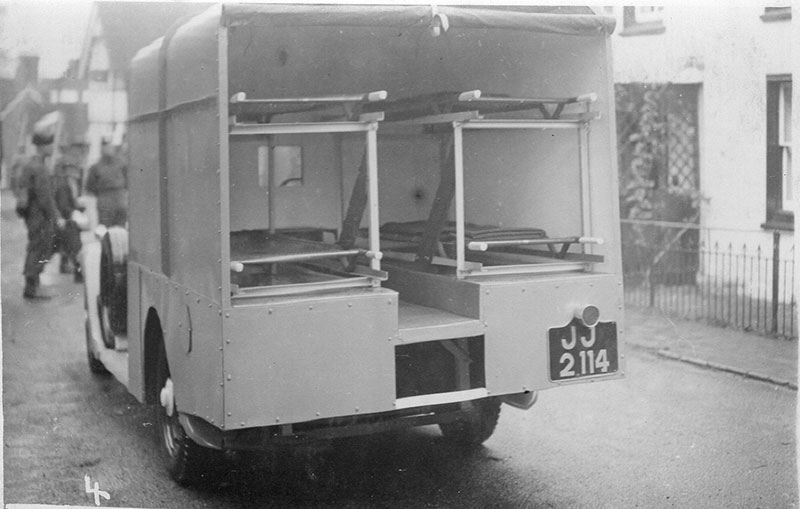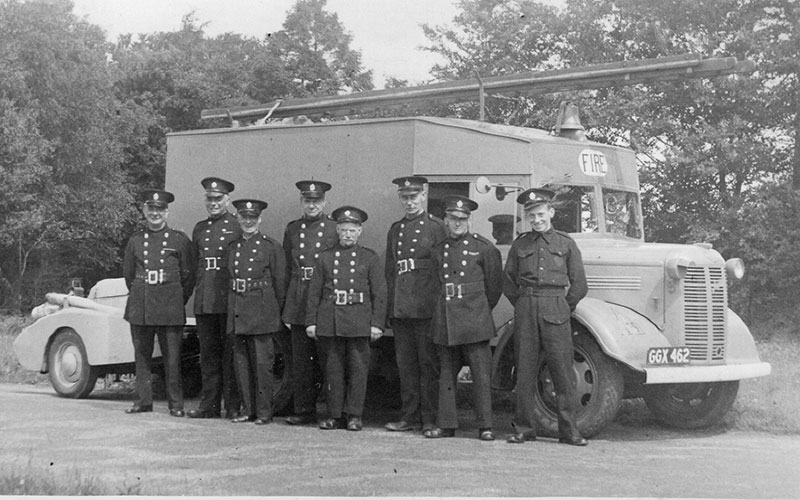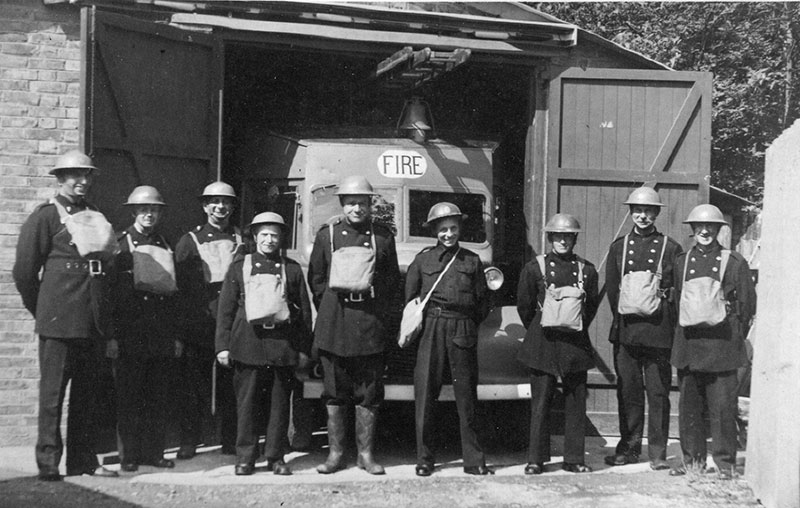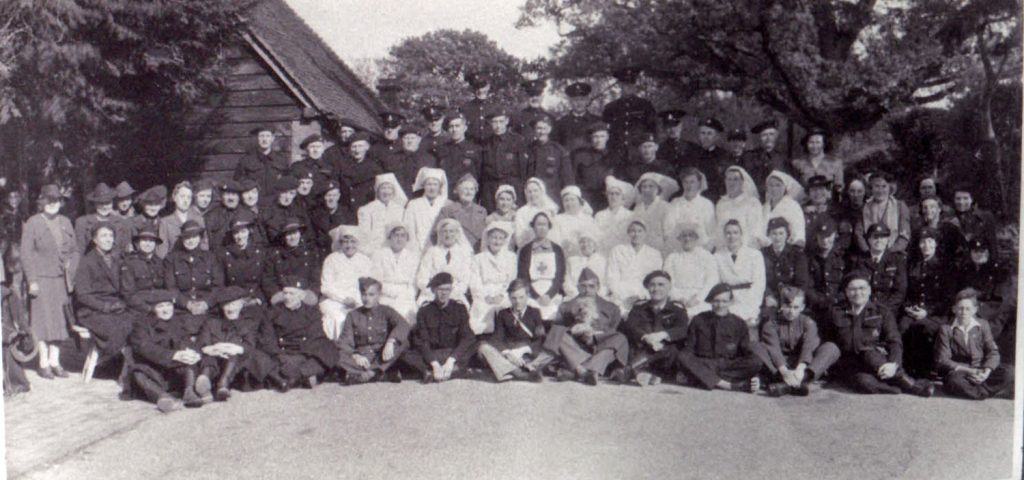 This large group is a panorama stitch of 3 photos and is probably from the same occasion as the picture below. One young man sitting far right in the bottom row is also standing at the left in the photo below and maybe Edwards. CLICK to enlarge.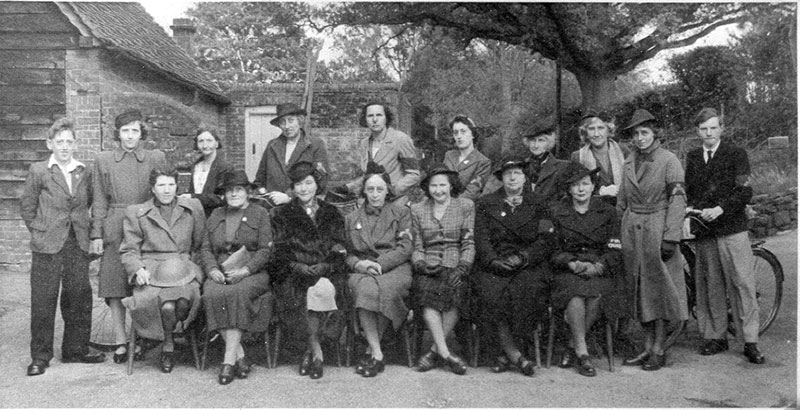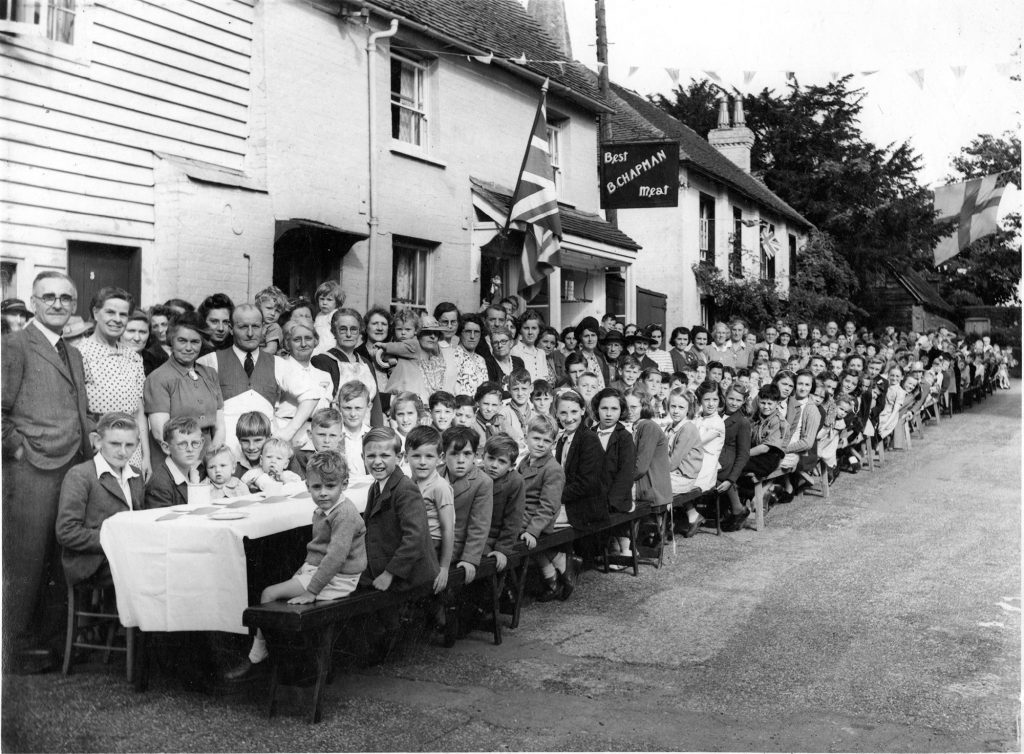 The children of Hartfield and parents at the VJ+1 Day August 16th 1945 celebration meal. CLICK TWICE to enlarge and see if you can recognise anyone! Initially we know that the man 4th from the left with his hands on his hips is Mr Chapman the butcher whose shop is in clear view. His wife is next to him nearer us. The first young man at the table on the left who was identified as Edwards by Tommy Mitchell appears to be the same as the young man on the left of the Volunteers Group in the picture above and may be wearing the same clothes so could date the pictures to within hours – or possibly days!
Names written on the back of a copy of this picture held by Tommy Mitchell:
From left standing, Mr & Mrs Cadell, Edith Knight, Miss Jarrett, Mr & Mrs Chapman, Mrs Edwards (snr), Mrs Holman.
A Story of Evacuation to Hartfield
At the beginning of the war it wasn't only children and families that were evacuated from 'target' areas such as London but also companies. One particular company that arrived in Hartfield early on was Alex Lawrie and one young man of 16 who arrived to join the business wrote a reminiscence of this time many years later in 1996 when he was living in Crowborough.  This was amongst the collection of wartime items belonging to Tommy Mitchell that was copied to ensure the survival of important memorabilia and to remind later generations what life was like for their ancestors.
The story was initiated by a request on our Facebook site from Janette Lett in March 2018
"I would be interested to know anything about Hartfield House. I have a photograph that was taken in the early forties but can't find anything about it on the Internet. Please help. My in laws met there. My father in law worked for Alex Lawrie who moved his company to Hartfield from London just before the Second World War. My mother in law's parents moved there because her father worked for Alex Lawrie. They lived in the cottages and mother in law's sister went to the Hartfield primary school for a while. Any information would be good. Thank you"
Those of you who have read the Village Guide would know that Hartfield House was the name of what is now known as St Marys and is the last house on the left up Church Street before the Lychgate. The name was changed when an order of Nuns moved in during the 1930's so this clearly did not tie up with the wartime date and, although a substantial house, did not seem large enough for a business relocation.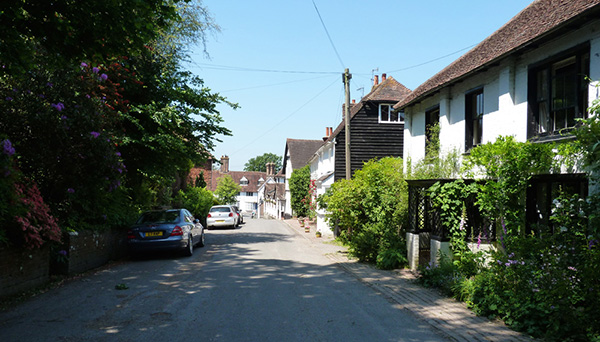 One of our history 'makers and collectors' and long term resident of Hartfield, is Tommy Mitchell, whose family has been associated with Central Garage since the beginning. Amongst his wartime collection there is a letter from Ron Leach with his reminiscences of working at Alex Lawrie which sets the scene beautifully as to how the name Hartfield House was used again.
CLICK  EACH PAGE IN TURN TO ENLARGE AND READ THE LETTER! (LEFT ARROW TO RETURN)
Along with this letter there is a page of annotated pictures which is shown below. CLICK to enlarge.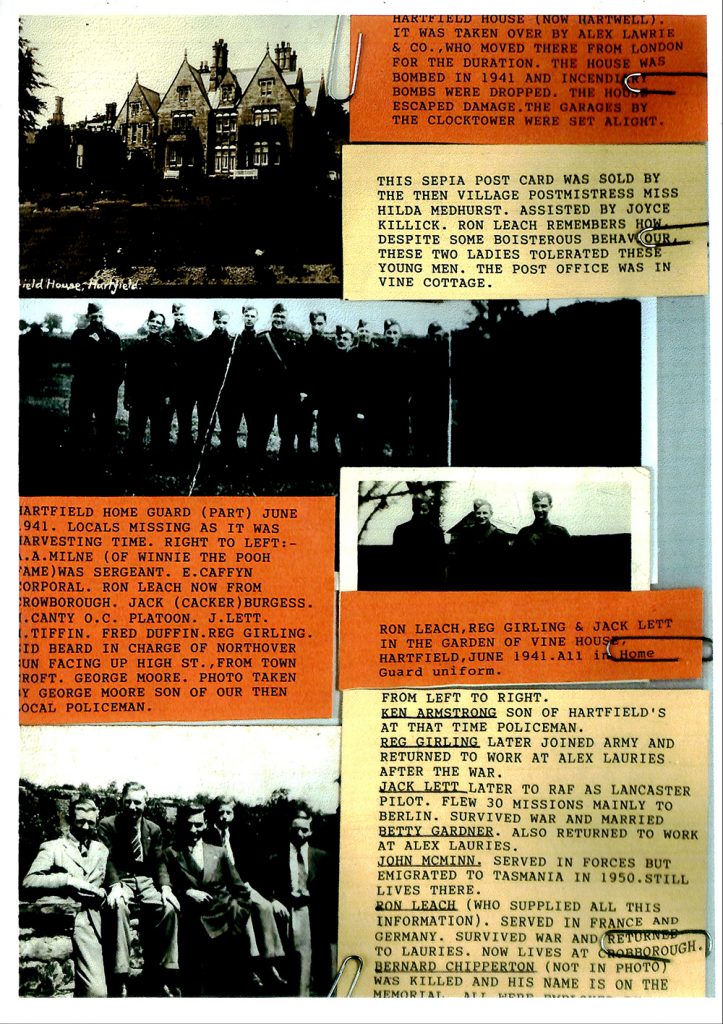 One of our other Facebook members, Richard Stuart-Pennink turned out to have a close connection with the Alex Lawrie Company as he explained:
"My grandfather, A N Stuart, was MD at Lawrie before, during and after the war. It would have been his decision to move the Company out of London during the war and Hartfield was chosen as it was very close to his home at Chuck Hatch. Lawries were instrumental in maintaining the supply of tea during the war – an essential commodity!"
"AA Milne and my grandfather were friends and colleagues in the Home Guard ( Stuart was Colonel and Milne his Adjutant)."
And here we have a unique 'twist' to the story when AA Milne penned a poem to Stuart on Lawrie headed paper that clearly uses Hartfield House as the address.
"The poem refers, lightheartedly, to my grandfather's responsibility for blackouts and rationing of electricity etc."
At a stroke we have confirmation that Lawries referred to their 'country wartime retreat' as Hartfield House – probably quite unaware that there was, or certainly had been, another Hartfield House. We also know from Ron Leach that it was a good walk from the village and that the location was Hartwell Farm – which does have a long drive!
The poem is copied below along with a transcription for ease of reading and, because AA Milne has used somewhat archaic language, a few lines of explanation from Richard Stuart-Pennink are added.
"The Lawrie business is still very much alive and is now Camellia plc. Lawries always operated from houses rather than office buildings and, as Camellia plc they still do. They are now at Linton House, in Kent, a former stately home and, prior to that, at Wrotham Manor."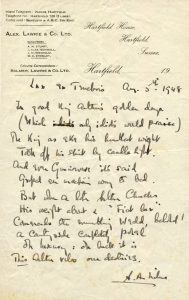 Lux ex Tenebris                                                 (Light from Darkness)
In good King Arthur's golden days
(Which only idiots would praise)
The King as eke his humblest wight              (as even his humblest subject)
Took off his shirt by candle light
And even Guinevere it's said
Groped an uncertain way to bed.
But when a later Arthur Chucks                     ('Chucks' is probably a skit on Arthur's home, Chuck Hatch
His weight about & "fiat lux"                           (& let there be light)
Commands the trembling world behold!
A countryside completely poled                      (a countryside completely lit up)
Oh luxury, oh luck it is
This Arthur rules our destinies.
(line 7 The Arthur is my grandfather (A.N. Stuart) and Guinevere his wife Gwladys)
Colonel A.N. Stuart was commanding officer of the local Home Guard and Captain A.A. Milne his second in command (Adjutant). (Mainwaring & Wilson!)
The poem is a light hearted reference to Colonel Stuart's apparent control over the supply of electricity and blackout rules etc.
The Stuarts and Milnes were neighbours and friends. My grandfather owned the farm (Tile Barn farm) that ran down to Cotchford and the river Medway (Upper Medway?) over which Pooh Bridge crossed.
After the war, A.N.Stuart was awarded the CBE for his efforts in maintaining tea supplies (he always insisted it should have been awarded to ALL of the Lawrie staff)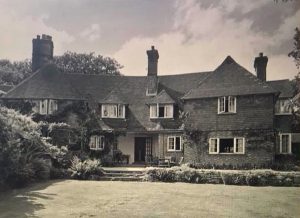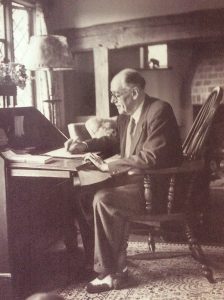 Finally this is a current picture of Hartwell House that was, for the wartime evacuation period, known as Hartfield House!