Historic Buildings
There are many historic buildings in the Hartfield and District area other than the churches, schools and locations covered by other headings. Early original pictures and, hopefully, up to date comparison pictures will provide a time line of the passing years. The site will start with early original pictures that are generally available and, where possible the modern picture may be added. Several of these properties have important histories and many have illustrious occupants
Bolebroke or sometimes Bolebrook Castle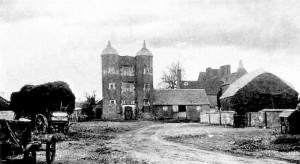 These two early pictures show Bolebroke or Bolebrook Castle with its magnificent Gatehouse in a very decrepit state. The main building can be seen to the right and behind the stable building with a substantial set of chimneys. In the first picture the building looks very much unused just one side of a farmyard whereas there are two figures standing by the entrance in the second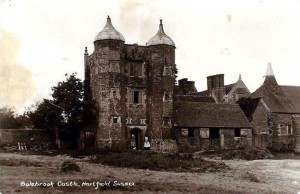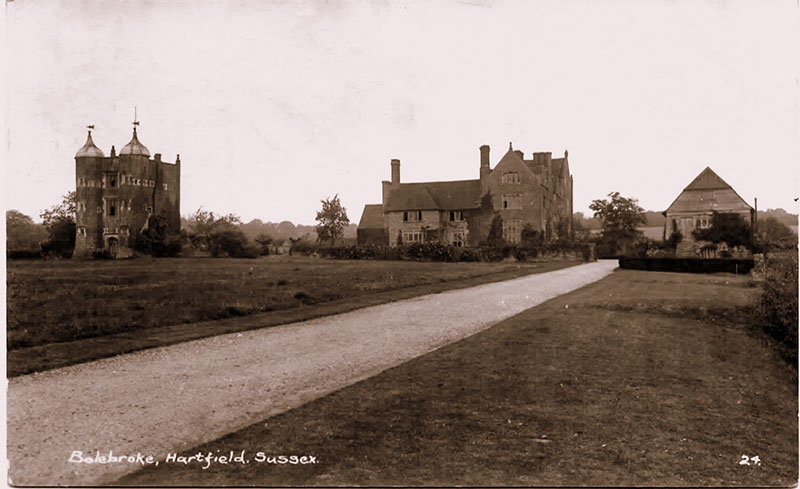 This splendid picture has been provided more recently by Carolyn Proud. She tells me the postcard was posted in 1925 which doubtless provides an excellent guide to the age of the photo. Note that all the adjoining and farm buildings have entirely disappeared leaving the gatehouse in the somewhat isolated position it is today! The two towers have even gained weathervanes.
The picture below is a more recent picture taken from across the lake in front of the main building.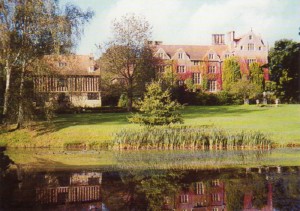 ---
The Lychgate and Lychgate Cottage.
At the entrance to St Mary's Church at the top of Church Street, is The Lychgate and Lychgate Cottage, another medieval building which was by tradition occupied by the Parish Clerk or Verger  A 'lychgate' was a covered space or passage which would allow the pall-bearers to pause out of the rain to allow the mourners to settle down in the Church. In the Hartfield case the area above the passage is a bedroom.
The date 1520 is shown on the building but it is considered that it may be as early as 1475. The lean-to extension was added in 1875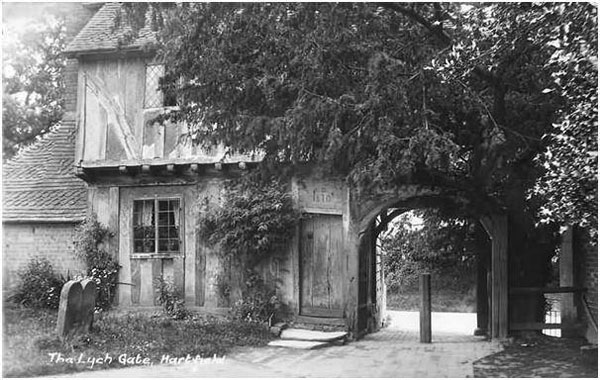 And some recent pictures. Note the ground floor window has been enlarged and the post in the centre of the passage has been removed.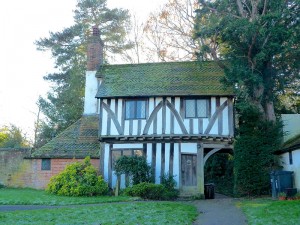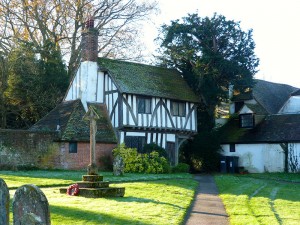 Below you can see how the cottage bedroom rests on the lychgate.
If you look up as you pass through the lychgate you will see the inscription below which says:
"SEEK THE LORD AND HIS STRENGTH"
"THE HEART OF THEM REJOICE THAT SEEK THE LORD"