War Memorial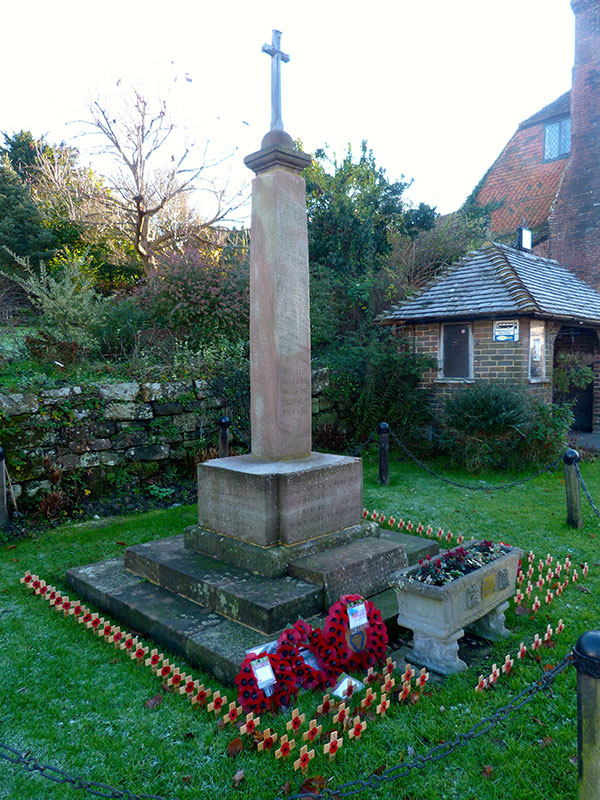 The War Memorial on the High Street near to Church Street commemorates Hartfield residents who died in both the First and Second World Wars.
James Castle has spent 8 years researching all the names on the War Memorial. He says that Dan Maher has been invaluable in checking accuracy and finding some excellent source material with the last two years being very much a team effort. When 15 individuals who were not included on the memorial were discovered, Dan persuaded the Parish Council to have the extra names added during 2014.
A complete record of all the names on the Hartfield and Colemans Hatch War memorials from both World Wars has been added below. This list is in alphabetical order and shows birth and death dates and the location(s) of the name.  The Parish Magazine will be carrying information on a number of the names in each issue. Read a little more about it in the meeting report for November 2014.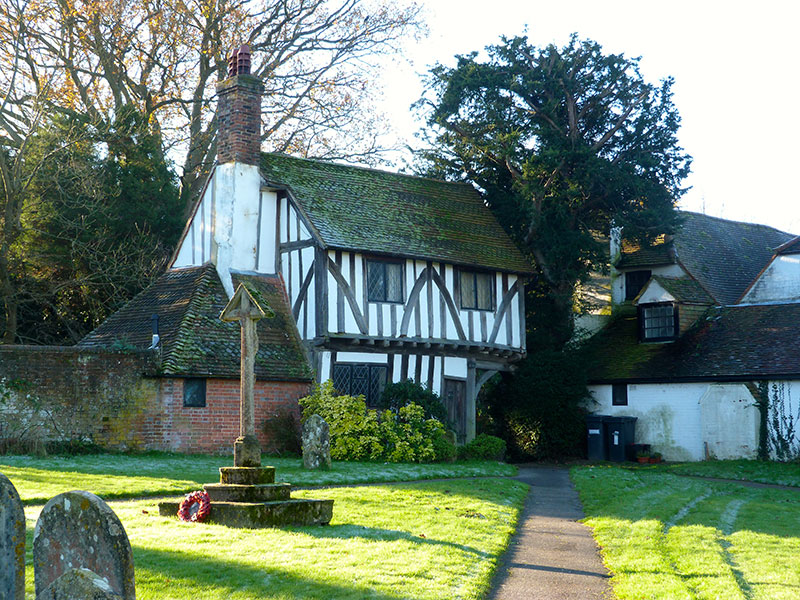 In addition to the Memorial in the High Street there is an additional memorial on the grass of the churchyard immediately through the Lych Gate.  This memorial was erected by Mrs Peel, the mother of Charles Peel whose information is on the alphabetical list. He is also on the High Street Memorial.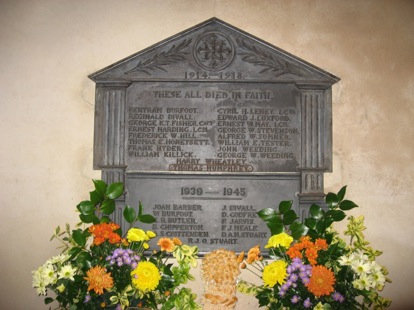 This is the Memorial plaque in the Coleman's Hatch Church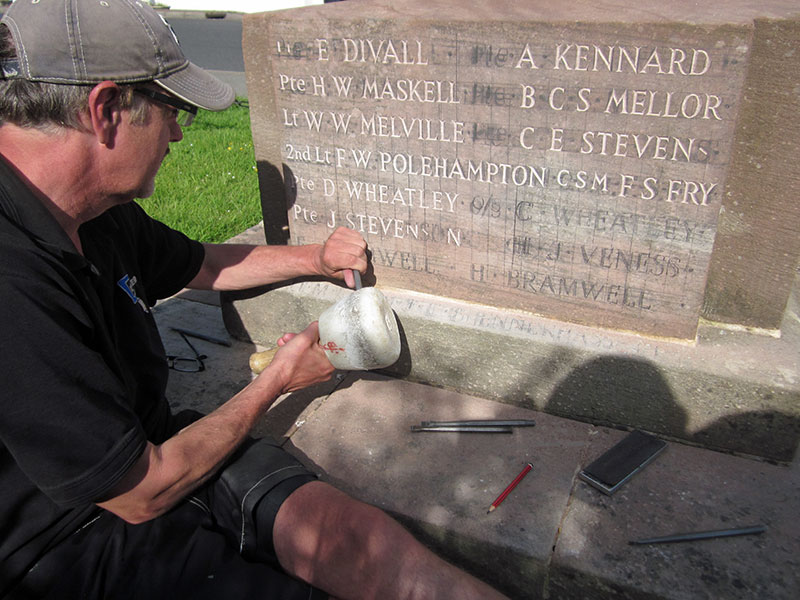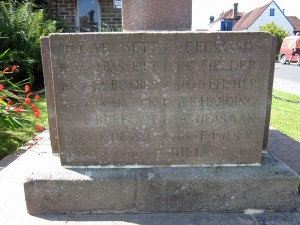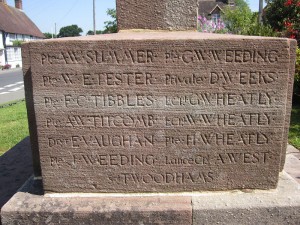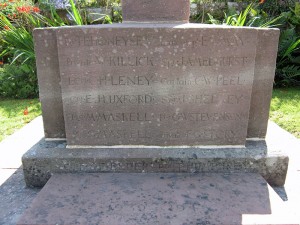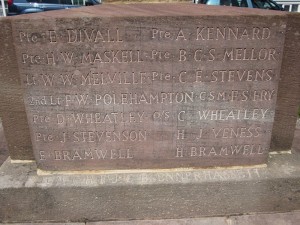 James points out that there are spelling mistakes on the earlier carved names but his listing corrects these. A visible example is Private W Summer on the top row of the right hand side. His surname was SUMNER.
The list below is a simple alphabetical list of all names with their birth and death dates and the location(s) of their memorial(s). The full list with details of each individual has now been added as a separate page. Click on this link Memorial Details.
Surname
Forename(s)
Born
Died
Memorial
Buried
Barber
Joan
1919
9th July 1943
CH, FR, EG +Bus stop in CH
Colemans Hatch (Holy Trinity) Churchyard, Grave B56
Bassett
Albert
1879, Orchard Cottage, Hartfield
6th Feb 1919
H
St. Pol British Cemetery: Grave II.E.9
Bassett
James Baldwin
1877, Hartfield
8th Oct 1915
H & Loos Memorial: Panel 95 to 97
No Known Grave
Blennerhassett
Marmaduke Charles Henry Francis Joseph Casimir
20th Nov 1902
25th May 1940
H
Dover (St James's) Cemetery : Grave Row E Joint Grave 3
Boakes
Ernest Stanley
1897, Hartfield
26th April 1917
H, Ho
Etaples Military Cemetry: Grave XVIII.A.5A
Bramwell
Ellen
abt 1869
9th July 1943
H
Bramwell
Harry
abt 1873
9th July 1943
H
Brown
William George
1892, Hartfield
26th Sept 1917
H & Tyne Cot Memorial; Panel 154 to 159 and 163A
No Known Grave
Burfoot
Bertram
1897, Tonbridge.
14th Dec 1917
H & CH
Mont Huon Military Cemetery, Le Treport, France : Grave VI. D. 11A.
Burfoot
Wilfred Arthur
1907
12th Feb 1943
H & CH
Butler
Charles Raymond
1912
6th Aug 1944
H, CH & FR
Chipperton
Bernard
1924
6th Sept 1943
H, CH + bench in Uppr H
Coates
P
?
?
?
Crittenden
Albert Stanley
1915
1st/2nd Oct 1942
H & CH
Divall
Edward
1876, Hartfield
29th April 1917
H & Arras Memorial :
Bay 3

No Known Grave
Divall
Reginald
1891 Colemans Hatch
6th Dec 1917
H, CH & St Mary's Church Bishopstoke War Mem

White House Cemetery, St Jean-les-Ypres : Special Memorial 10.
Divall
John William
1918
20th May 1940
CH & FR
Edwards
Frederick Sylvester
8th May 1894, Hartfield
9th May 1915
H & Le Touret Memorial : Panel 20 and 21.
No Known Grave
Fielder
Edward Cecil
1897, Paxtol, Kent
19th July 1916
H & Loos Memorial ; Panel 22 to 25 & Paxtol War Memorial
No Known Grave
Fielder
Frederick Stephen
1892
27th June 1916
H & Paxtol
Fisher
George Kenneth Thompson
4th Aug 1879
3rd Sept 1917
H, CH, FR, Holy Tinity FR, F'burgh St M & Billockby, N'flk Min of Lab staff mem
Fry
Frederick Samuel
Sept 1880
25th Sept 1915
H
Godfrey
Douglas Aubrey
1917
28th Sept 1944
CH
Harding
Ernest
1877
6th Nov 1917
H, CH & St John's, Felbridge
Heasman
George James
1882
9th Oct 1917
H
Hill
Frederick William
1886
31st July 1917
H & CH
Honeysett
Thomas E
abt 1895
9th May 1915
H & CH
Humphrey
Thomas
1882
9th Oct 1918
H & CH
Hyder
Frank
1889
16th April 1916
H & CH
Jarvis
Frederick
1914
13th Feb 1942
H & CH
Kennard
Arthur
21st July 1891
6th Aug 1915
H
Kiddell
John Bartram
28th May 1919
1st July 1943
H
Killick
William
1888
17th Oct 1916
H & CH
Leney
Cyril Henry
Nov 1898
27th May 1918
H & CH
Luxford
Edward James
1874
8th May 1918
H, CH & FR
Mann
Thomas Alexander
1919
7th Jan 1941
H & plaque in St Mary's H
Maskell
George
1882
25th Sept 1915
H
Maskell
Harry Walter
1896
1st Aug 1916
H
Maskell
Mark
1888
10th Nov 1916
H Thiepval Mem, pier & face 11A & 11D
May
Ernest William
1889
18th Aug 1916
H & CH Thiepval Mem, pier & face 7C
Medhurst
John Arthur
abt 1892
9th April 1917
H & Duisans Cem, Etrun Pas de Calais, Grave I.L.1
Mellor
Benjamin Charles S
1892
3rd May 1915
H & Helles Mem panel 125-134 or 223-226 228-229 & 328
Melville
William Woodfall
2nd April 1877
9th May 1915
H & Mem Cross, Portsmouth Cathedral
Miles
Sidney John Richard
1912
19th Oct 1941
H & Withyham
Neale
Frederick J
1920
9th Sept 1940
H & CH
Paton
John Ramsay
1919
19th Dec 1941
H
Peel
Charles William
abt 1889
24th April 1914
H
Polehampton
Frederick William
14th June 1873
26th April 1915
H & Walton nr Wellesbourne, Stratford - u - Avon
Queen
Thomas
abt 1910
29th April 1942
H
Shelley
Ewbert John
1895
28th Oct 1915
H & St Matthew's, High Brooms
Stapley
Robert Mckie
1920
2nd Aug 1943
H
Stevens
Charles Edward
1888
21st March 1918
H
Stevenson
George William
1893
5th July 1916
H & CH
Stevenson
John
1892
27th Oct 1916
H
Story
Frederick G
?
?
H
Stuart
David Andrew Noel (Viscount)
7th Oct 1921
10th Nov 1942
CH & Nutley
Stuart
Robert John Ochiltrie (Viscount)
12th Dec 1923
17th Sept 1944
CH & Nutley
Sumner
Alfred William
1877
21st Oct 1916
H & CH
Sykes
William Ernest
21st Dec 1872
8th Jan 1915
FR & Holy Trinty FR
Symons
Edward Graham de Twenebroke
21st March 1911
12th Feb 1942
H
Tester
William E
?
24th Sept 1917
H & CH
Tibbles
Frederick Charles
1883
23rd Oct 1914
H
Titcomb
Arthur William
1877
29th Jan 1917
H
Vaughan
Ernest Stanley
1897
28th Oct 1915
H & St Matthew's, High Brooms
Veness
Henry James
1895
9th July 1943
H
Weeding
George W
1885
3rd May 1917
H & CH
Weeding
John
1897
20th Aug 1917
H & CH
Weekes
David
abt 1880
9th April 1917
H & Withyham
West
A
?
?
H
Wheatley
Doctor
20th Jan 1888
9th May 1915
H
Wheatley
George
1888
3rd May 1917
H
Wheatley
Harry
1895
26th March 1918
H
Wheatley
William James
1893
7th April 1915
H
Wheatley
Charlie
20th July 1900
8th Feb 1921
H & listed in Vicarage Rooms CH returned safely (died accident)
Woodhams
Thomas Henry
1893
13th April 1917
H
Baylay
George Frederick
23rd April 1898
23rd March 1918
Not listed H or CH Brass plaque on south wall CH
The full list with details of each individual has now been added as a separate page. Click on this link Memorial Details.