Schools
SCHOOLS.
(Mike Parcell would like to know if anyone has come across his folder on 'Schools' which he spent several years putting together only for it to disappear at one of the HHG exhibitions. It included 'lengthy & rewarding' correspondence with the daughter of one of the headmasters, himself the nephew of the very first Head. Can anyone throw any light on this important file?)
SUCCESS! Mike tells me that he has (September 2015) recovered a large collection of papers from a resident who moved away. Whilst the collection includes his items there are many 'new' items so some mystery remains but Mike is very happy and relieved!

The following notes come from an article in the'Hartfield Times' with the addition of the wonderful picture of the school from the postcard collection of Sheilah Fenton with a close-up of the pupils. Sheilah tells me that this is her favourite postcard because it reminds her of her own schooldays there!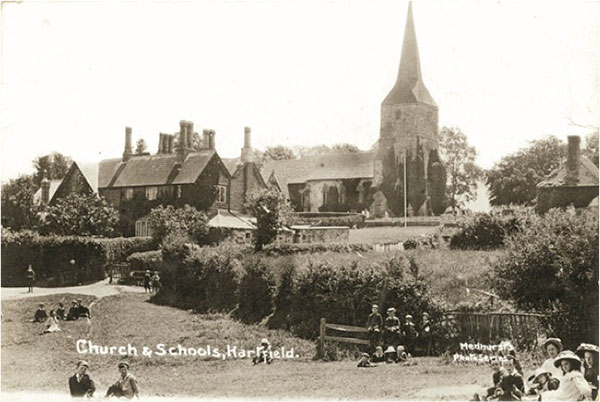 St Mary the Virgin Primary School, Hartfield.
Opened in 1842 the first schoolmaster was George Bocking, a Londoner, who arrived with his wife Hannah to live in the Schoolhouse. Hannah is described during her life as schoolmistress but it is a wonder how she had the time and strength for her teaching duties while giving birth to 13 children over 23 years. She died in 1898 age 76.
They taught at Hartfield for about 42 years after which they retired to Groombridge. George died in 1902 aged 76.
In 1900 George Arthur Bocking, a nephew of our George, was appointed as schoolmaster. He had a troubled time with the education authorities and in 1905 was dismissed. At this time attendance was between 150 and 200.
Prior to the 1842 school there was for very many years a wooden-built school in the garden of the present day Appletree Cottage in the High Street. This was founded in 1640 by the Rev Richard Randes the Hartfield Rector.
There were three sisters, Sarah Elizabeth, Charlotte and Emma, granddaughters of Josiah Wedgwood the celebrated potter. Elizabeth did not marry, Charlotte married the Rev Charles Langton and Emma married Charles Darwin.
Around 1847 Elizabeth built the house at Colemans Hatch called 'The Ridge' and at the same time Charlotte and her husband bought the adjacent property now called 'South Hartfield'.
Some time before 1861 Elizabeth built 'The Ridge School' close by which could accommodate 50 children. In 1862 The Ridge and the school were sold to Lady Darling and her brother Rev Frederick Darling. She died in 1868. The school continued till at least 1896. There is no record of it after this date. Rev Darling died in 1909 aged 88.
Earlier in 1875 there was a threat of the closure of the school whereupon Mr Thompson offered to take the children in at his school at Ashdown Park. Perhaps when the Ridge School closed the children went there. The school had been funded entirely by Miss Wedgwood and later by the Darlings.
In 1867 Thomas Charles Thompson bought Ashdown Park and built the present building which is now a hotel.
In 1875 he built a school for estate children and others in the locality. He employed a school mistress and provided her accommodation in a specially built teachers house.
The school became known as the Memorial School in memory of his two sons who had died. It closed in about 1945.
In the 1880's about 70 children attended.
The following link will take you to the history section of the website for the current St.Mary the Virgin CE Primary School 
——————————
I have received a picture of 'Home School' at Brackenhill, Hartfield which is now all flats. Carolyn Proud who provided this picture hopes to provide more details in due course. She tells me that there was also 'Tenacre' School at Upper Hartfield. More to follow! Any information from other readers would be welcome.
Emma Fulham has contacted the website with more information about 'Tenacre' School. She says in her comment below but repeated here for clarity:-
"There was a school at Ten Acre it started as a private dwelling owned at one point by Arthur Clough but then became a school sub divided and our part Ten Acre Court continued as a school until the 1970's I have some title documents I can copy for Mike. It is now again in family ownership and until 2013 we had the kindergarden and gym hall next door in our garden I think Sheilah Fenton was a dinner lady or worked here at some point and her husband did some work on the building too".