'Winnie the Pooh'
Although this page may seem a little frivolous for a History Group, there is no doubt that AA Milne and his small set of stories, written for his son Christopher Robin, are almost certainly the most famous subject on a world wide stage of anything related to Hartfield. Why else would coach loads of school children from Japan come to the 'home of Winnie the Pooh' and of course all the Ashdown Forest locations have gained their own fame, albeit with slightly different names.
The 'Pooh Shop' at the end of the village is a popular visitor attraction and in 2011 a new book was published entitled 'The Life and Times of the Real Winnie-the-Pooh" written by local resident Shirley Harrison. More details can be obtained from the publishers website, http://www.pen-and-sword.co.uk
Pooh Corner has a new owner and a new website 2019. Go to https://www.poohcorner.co.uk
Talks given to the History Group in the Village Hall on this subject are always well attended and, although it may be modern history it is without doubt 'history' and will, hopefully, attract some to this site who might not otherwise visit.The October 2014 meeting of the History Group enjoyed a talk by Gilly Halcrow entitled 'Whatever happened to Christopher Robin" You may wish to read the September 2014 meeting report to add to the story. Several of Gilly's photos and postcards from Sheila Fenton are shown below.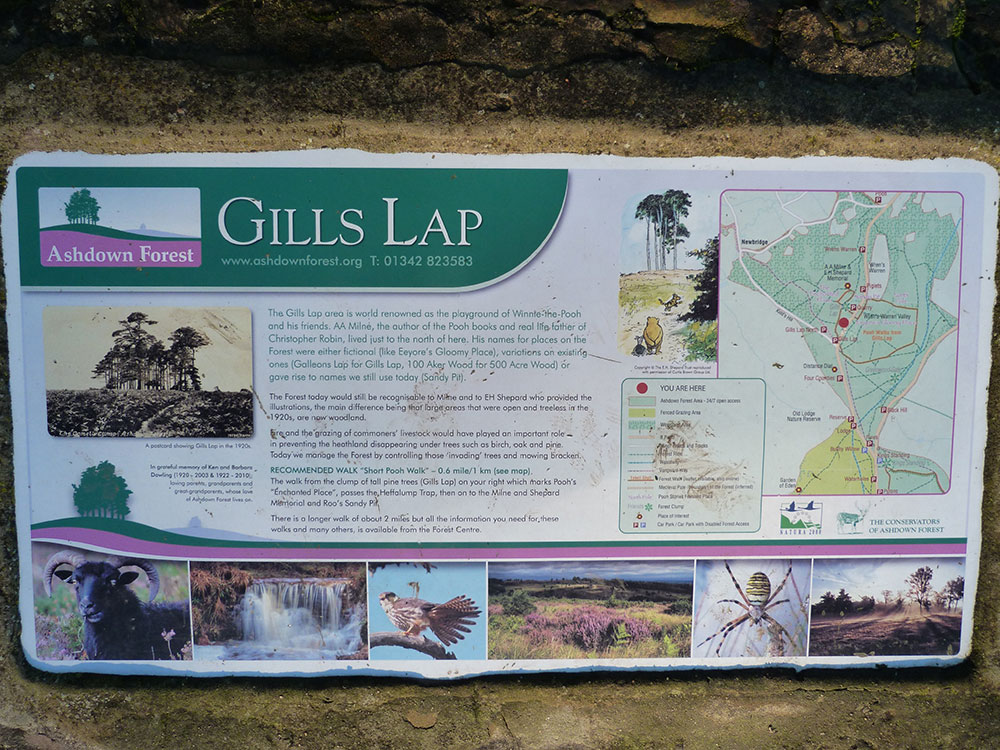 Winnie The Pooh and Ashdown Forest are inextricably linked as illustrated here on one of the many signs on the Forest – this one at Gills Lap – (Galleons Lap for Christopher Robin).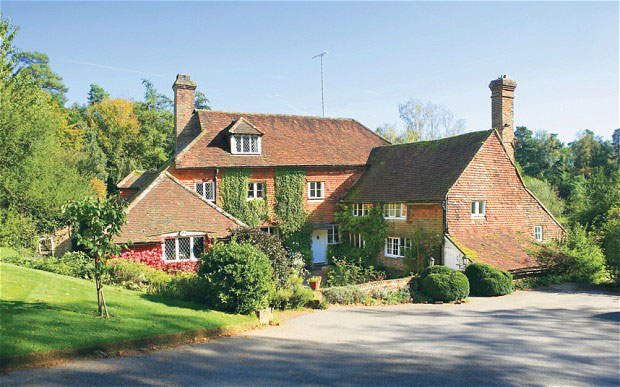 Cotchford Farm, Hartfield, the home of AA Milne and Christopher Robin Milne.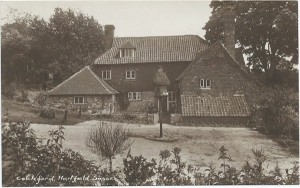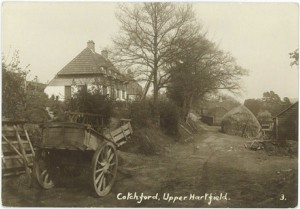 Two pictures of Pooh Bridge by Gilly Halcrow with a little friend playing pooh sticks!
Two more of Gilly Halcrow's pictures with the Gills Lap commemorative tablet and you know who!
The famous books and the somewhat infamous record that caused Christopher Robin (Milne) to be so teased at school!
Visiting Buckingham Palace, The Creatures and a little door that was placed on a tree near Pooh Bridge by an unknown admirer that, unfortunately, was vandalised but has been replaced in 2016. (See comments below) Does anyone know more about this memento?